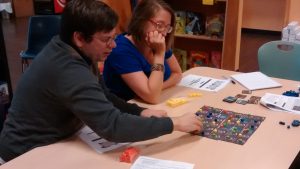 Love word or strategy games?
Want to help shape our game while it's still in development?
Can you be bribed with GeekGold or Amazon gift cards?
If you answered yes to any of the above, you're in luck. We're on the hunt for a small army of playtesters who can give our newest game, Word Domination, a good work over. While this is not a print-and-play, you will need to dig through your game closet to provide a few necessary parts. You'll need a collection of letter tiles from a game like Scrabble or Bananagrams. You'll also need a bunch of player tokens – coins, meeples, small animals – whatever you've got on hand, though you will need a lot of them.
We are definitely not above using bribery. Complete a full game, submit your feedback, and we'd be more than happy to provide BGG GeekGold or an Amazon gift card.
Interested? Fill out our playtest request form here. We'll confirm your submission and send you an email with the rules PDF and additional information. If you have any questions, feel free to post a comment below, or contact us and we'll get right back to you.